Refine, Restore, Rejuvenate Your Skin With This Advanced At-Home Facial Treatment
What is Hydrodermabrasion?
Hydrodermabrasion is a new cutting-edge, facial rejuvenation skin treatment that cleanses, detoxifies, exfoliates, extracts impurities, and deeply hydrates the skin.


Hydrodermabrasion is also an anti-aging skin treatment that helps to reduce fine lines and wrinkles, large pores, hyperpigmentation, and uneven skin tone.


Using the latest skin healing technology, hydro dermabrasion utilizes the natural healing powers of water and oxygen to revitalize the skin for a hydrated, healthy, and youthful appearance.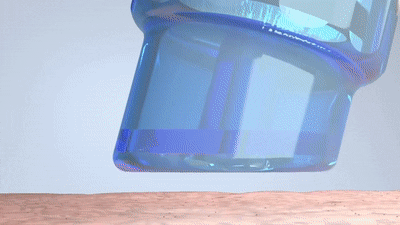 How Our Technology Works For You
The use of water softens the outer layer of skin where all the impurities occur. The perfectly calibrated vacuum suction exfoliates the outer layer of the skin and extracts the dead skin cells, sebum, excess oil, blackheads, whiteheads, unclogs pores, and other skin impurities.
✅ Cleanse & Hydrate

The new, fresh layer of skin is exposed to the water and oxygen multiple times with each pass. The unique design of the cleaning tips gives them multiple abrasive edges, which means that the skin is exfoliated several times with each pass. The spiral design also allows water to stay on the skin longer, to boost performance and absorption time in order to deeply hydrate the skin.
The vacuum suction increases blood circulation and triggers the skin's natural healing process which boosts collagen and elastin, leaving skin firm, fresh and radiant.

It removes the top layer of dead, dull skin cells. Once this barrier is removed, skin care products can penetrate up to 20X deeper, maximizing the benefits of skincare.
Long Term Use Diminishes The Appearance of
Fine Lines 

Wrinkles

Pore Size

Blemishes

Dark Spots


Uneven Skin Tones
GIVE YOUR SKIN THE ATTENTION IT DESERVES!
Best blackhead remover Skin® At Home Hydrodermabrasion Handset brings the holy grail of skincare treatment that costs hundreds of dollars at a spa or skincare clinic, in the comfort of your home at a fraction of the cost.
Typical Micro-dermabrasion treatments can often feel quite rough and uncomfortable on the skin, but adding in the infusion of water and oxygen at the same time means that the treatment feels smoother, and a lot more comfortable.
There is no downtime whatsoever!
RESTORE YOUR APPEARANCE & RENEW YOUR CONFIDENCE
Let your real beauty glow!✅ 
When you have deeply exfoliated your skin, not only it makes your skin softer and brighter but also it allows your makeup to go on perfectly smooth, revealing your real beauty and boosting your confidence
Hydrodermabrasion is highly effective in improving the skin's overall texture, reducing fine lines and wrinkles, and giving deeper hydration to the skin. Congested and enlarged pores will become cleaner and smaller over time if you stick to a regular facial regime.
TESTIMONIALS
Out amazing customers talk about it all over the world
Hydrodermabrasion Handset

3x Silicone Suction Nozzles/tips

3x Plastic Suction Nozzles/tips

User Manual

USB Charging Cable
Can't find your question? 
Email us at support@vuexi.com
What Is Aqua Facial Treatment 
Aqua Facial treatment is about much more than just great-looking, healthy skin. It's about being confident and proud of our real beauty. The Revive Skin At Home Aqua Facial Handset uses an advanced, multi-step treatment process to deeply cleanse the skin from impurities and effectively deliver botanical ingredients containing nutrients such as salicylic acid, horse chestnut extract, aloe vera extract, and powerful antioxidants to counteract damage by free radicals – from pollution, sun and stress, which can degrade the skin and accelerate the aging process
 What Are The Benefits Of Aqua Facial Treatment 
Instantly revitalize and nourish worn out, dehydrated and sunken skin
Lessen the look of fine lines and wrinkles and plump up the complexion
Treat and decrease congestion and acne
Improve acne scarring
Minimize the look of huge pores
Refine thickened skin
Enhance the appearance of pigmentation and sun-damaged skin
Thoroughly exfoliate dead skin cells and promote new collagen and elastin production
20x Increase in Skincare Product Absorption
 How frequently should I use this treatment
A full facial treatment only takes 10-15 minutes and it's recommended to have one treatment weekly to keep your skin looking and functioning at its peak.
———————————————————————————
100% SATISFACTION GUARANTEE 
We are not happy until you are!
Vuexi truly believes that we supply some of the most innovative outdoor gear in the world, and we want to make sure we back that up with a 30-day risk-free guarantee.
If you don't have a positive experience for any reason, we will do whatever it takes to make sure you are 100% satisfied with your purchase.